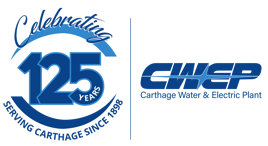 Carthage Water & Electric Plant (CWEP) is celebrating 125 years of serving the community of Carthage, Missouri. In 1898, Carthage citizens voted to electrify the City of Carthage, a decision which led to the birth of the municipally-owned utility and which forever changed the future of the City of Carthage. 125 years later, Carthage Water & Electric Plant continues to provide Carthage with electric, water, wastewater and now, fiber optic internet services, fostering growth and development in the community.
"At CWEP, we fully embrace our rich history as our mission remains to provide safe and reliable utility services to our neighbors, friends, and families. Service is at the heart of what we do on a daily basis, and we take great pride in the quality of service provided in the past while also looking for more ways to serve in the future," said Chuck Bryant, CWEP General Manager. "We strive to ensure our customers pay less for critical services, enjoy greater reliability of those services, and can depend on CWEP to continue to meet their needs for years to come."
In honor of the 125th anniversary, CWEP will be hosting and participating in numerous community activities and events to show our appreciation for the community in which we live and serve daily. Be sure to follow along on our social media accounts to see where we'll be next and how you can join in on the celebration. We look forward to all the memories left to be made this year as we celebrate this important milestone in our history.
Get Connected!
We want to help you stay up to date & in the know of all of the latest CWEP news & updates. Be sure to like, follow & connect with us on social media!